In a move that could bring in more competition for Tesla Motors Inc., Cupertino-based Apple, Inc. is working on its newest product: an electric-generated car.
The Wall Street Journal broke the news on Feb. 13 about Apple's project nicknamed "Titan," which currently has hundreds of people working to create the company's first automobile. Journal reporters Daisuke Wakabayashi and Mike Ramsey reported that the new car will be more "down-scale" and will resemble a mini-van unlike Tesla's roadster Model S.
The Model S, Tesla's most sought-after vehicle on the market right now, is considered to be the luxury car in the realm of electric cars. With a base price staring at around $70,000, Tesla cars may not be in the price range for most average car buyers.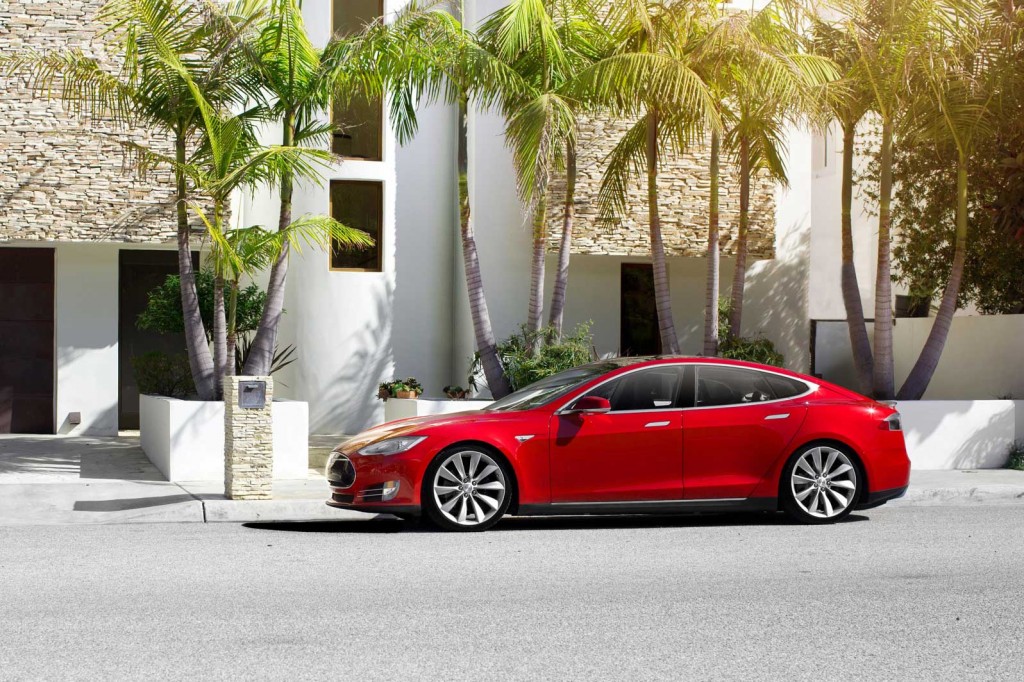 This is where Apple intends to play. Apple already has one foot in the automobile industry with its "CarPlay" that it released in 2014. "CarPlay" allows drivers to connect their iPhones to their cars, making it much easier and safer to use their phones while driving.
But besides this new product, Apple is leaving everyone in the dark about the design and price of its future car. The company hasn't made any public statements regarding the exterior or interior of the design, besides revealing that the car will resemble a mini-van. It also hasn't made any announcements on the car's base price and if the number will reflect Tesla's current price or other much cheaper prices.
However, Business Insider did include a quote from former Apple Board Member Mickey Drexler in an article published Feb. 14, alluding to the late Steve Job's vision for future Apple products. "Steve Jobs, if he had lived, was gonna design an iCar. I think cars have an extraordinary opportunity for cool design," Drexler told Business Insider.
The electric vehicle market isn't new. Nissan came out with the initial model of its Nissan Leaf back in 2013. However, Nissan along with other companies like Ford and BMW all released new electric models this year — unlike Tesla, which has pushed back its release date for its Model X car for later this year or even for 2016.
Unlike Tesla's high starting price for its current Model S, Nissan's 2015 Leaf model, BMW's i3 and Ford's Focus Electric all start at $29,000, $42,000 and $30,000 respectively. All this could prompt companies to worry about competition in the same niche market, but not Tesla's Chief Executive Officer Elon Musk.
During the company's second quarter earnings call last June, Musk couldn't suppress his laughter after being asked about the threat BMW's i3 model posed on Tesla's Model S.
After pulling himself together, he said: "I'm glad to see that BMW is bringing an electric car to the market. That's cool. There's room to improve on the i3 and I hope that they do."
And even with all of the setbacks the company faced last year with delays in deliveries for the Model S P85D caused by weather conditions and shipping problems, Musk doesn't believe there's anything to worry about. In fact, he has said he welcomes the competition.
Tesla hasn't directly spoken up about its thoughts on Apple's latest project, but unlike his response to the BMW i3, Business Insider Deputy Editor Jay Yarow has said he believes Musk will welcome the competition as it grows the market.
"Because the more electric cars there are in the world, the more normal it seems. The more normal it seems, the easier it is for Tesla to sell cars," said Yarow in his Feb. 14 article. "Tesla is the pioneer in this space."
Yarow added: "By the time the Apple Car hits the market, Tesla should be on its third-generation car."
Back in 2014, Musk indicated on the company's blog that the company would allow others to use Tesla's patents to create more electric-generated vehicles.
"They (the patents) have been removed, in the spirit of the open source movement, for the advancement of electric vehicle technology," Musk said. "If we clear a path to the creation of compelling electric vehicles, but then lay intellectual property landmines behind us to inhibit others, we are acting in a manner contrary to that goal."
But this isn't to say Tesla isn't carefully watching the competition. In the company's shareholder's letter prior to its fourth quarter earnings call that took place on Feb. 11, Tesla reported a significant increase in spending in its research and development expenditures.
The Palo Alto-based company spent $139 million in research and development during the fourth quarter, up 100 percent over the $68.4 million it spent during the same quarter last year.
Musk said he anticipated 55,000 deliveries in 2015, a total of 500,000 deliveries by 2020 and millions by 2025.
The company said it will also finally be revealing its Model X in either the latter half of this year or early next year. It is also working on creating an electric car that will be more appealing to all consumers. The Gen III will start at approximately $30,000 dollars but will not available to the masses for another three to four years.
But for now, even with all of this buzz, Tesla's biggest match-up could prove to be just talk.
The Wall Street Journal also reported on Feb. 14 that Apple could decide to "not proceed with a car" and instead, use the car parts for its other famous Apple products.
Since the fourth quarter earnings were released on Feb. 11, shares of Tesla's stock dipped 9.6 percent to open at $193.57 on the NASDAQ Stock Market. However, even with the disappointing results and the announcement of Apple's future in the auto industry coming out in a matter of two days, Tesla's shares have been steady, staying above $200 all week.
On March 2, its opening price was valued at $202.75, down 2.63 percent from last Friday.
(Homepage photo courtesy of Apple.)