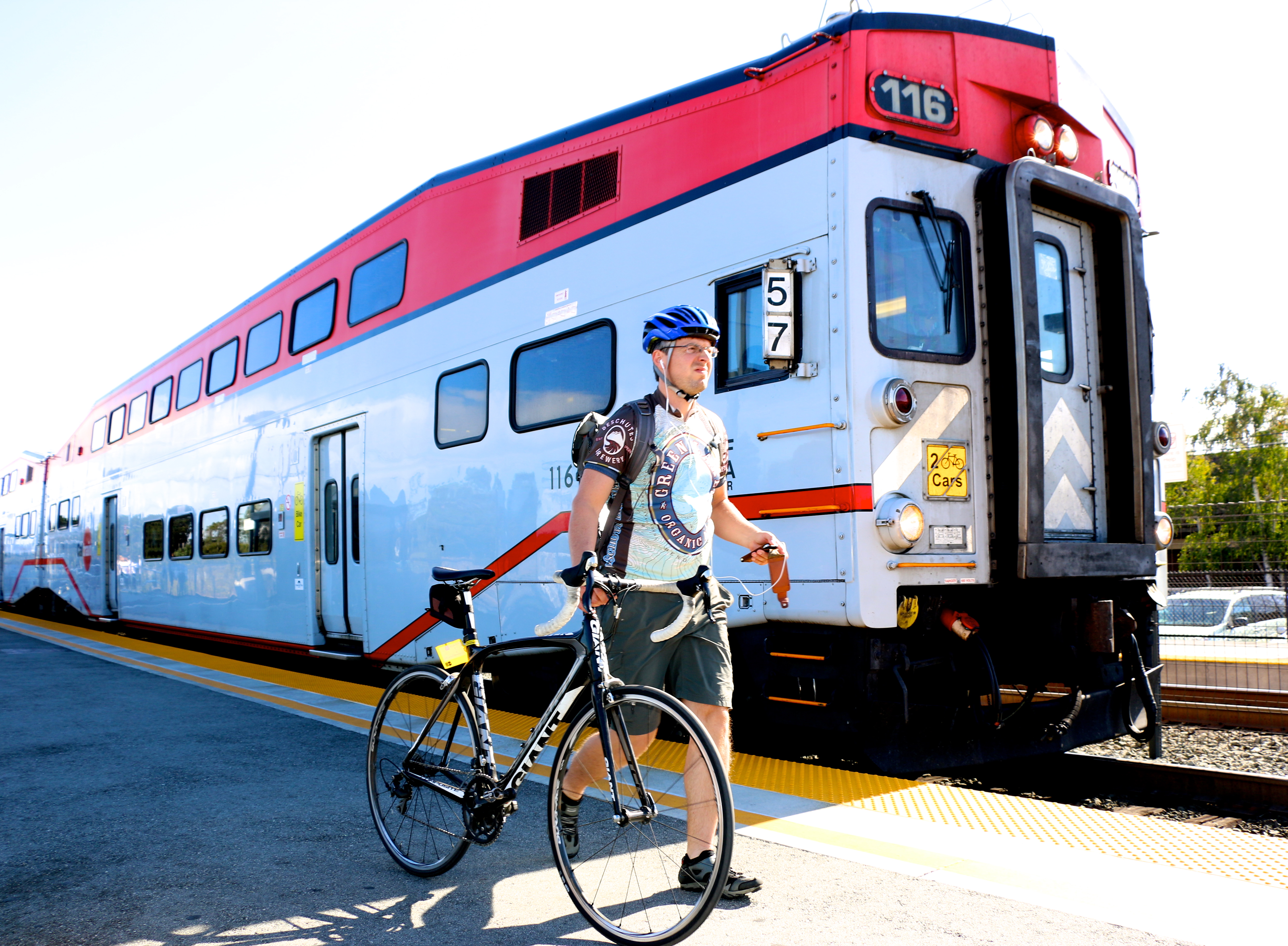 The Peninsula's growing biking commuter ridership — tired of getting bumped off peak-hour trains because of inadequate bike storage — is pressing Caltrain to expand bicycle capacity.
Bike ridership on Caltrain has more than tripled in the past decade, according to research from the San Francisco Bicycle Coalition. In both 2009 and 2011, Caltrain increased bike capacity; but bike ridership is still on the rise, up 19.6 percent from last year. Roughly 13 percent of passengers bring a bicycle on the train.
Caltrain authorized in early December the purchase of 16 train cars that will be added within a year to existing trains to "provide more capacity for standing-room only peak-hour trains." And in an interview, spokesperson Christine Dunn left open the possibility that some of the cars could be used for bicycle storage.
"The reason why we're purchasing the cars is because we have overcrowding, not just in bike cars, but on all of our passenger trains," she said.
Long-time advocates for increasing onboard bike capacity like Shirley Johnson hope 13 of the 16 new cars will accommodate bikes, a move she estimates would be enough to accommodate current ridership during peak hours.
BIKES ONboard, a project of the San Francisco Bicycle Coalition, is encouraging commuters to message Caltrain staffers requesting that the incoming cars be bike cars. The group has set up a system for notifying Caltrain each time a bike commuter gets bumped off a train. It has allowed the San Francisco Bicycle Coalition — which has currently grown to include over 12,000 members — to track bumps. There were roughly 300 reported bumps in September, more than any month since 2009, when the BIKES ONBoard project started keeping track.
The group is asking bumped biking commuters to hand a tardy slip to their boss explaining that Caltrain made them late.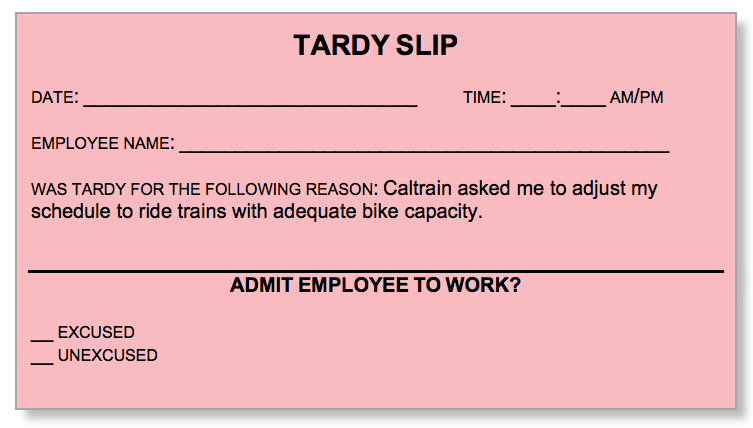 Caltrain has not officially decided how the new cars will be used. So other groups aren't waiting for the new cars and are instead looking at options that could expand bike capacity immediately.
An ad-hoc subcommittee on Caltrain's Bicycle Advisory Committee proposed increasing the amount of bikes allowed per rack on the trains — from four to five bikes.
"If you could put five bikes in there you can get a lot more capacity right away, without any integral cost at all and without any inconvenience or reduced seating for walk-on passengers," said Steve Vanderlip, founder of Bike San Mateo County.
Caltrain is currently conducting a hazard analysis to review this idea, which will take between one to two months to complete. Concerns include adequate emergency access to get off the train and ensuring bikes won't fall out of racks and injure riders in the event of an accident, Vanderlip said.
Mike Oberg of San Mateo thinks there's an even better solution.
"Each and every one of the bicycle-riding commuters think they are entitled to maintain their lifestyle, convenience and benefits and that everyone else should pay for their lifestyle," Oberg wrote in an opinion piece for the San Mateo Daily Journal on Sept. 23. Oberg said a better answer for bike commuters would be to purchase two bikes and keep one at the embarking station and one at the destination station in covered, secured lockers.
The Bay Area should be a bike-commuting haven. Eighty percent of Bay Area jobs are within two to three miles of Caltrain or BART stations according to a report from SPUR (the San Francisco Planning and Urban Research Association). Most of these jobs are further than half a mile away from a station, which is too far to walk but easy to bike, said Adina Levin, founder of Friends of Caltrain — a grassroots coalition of neighborhood, environmental and transit advocate groups.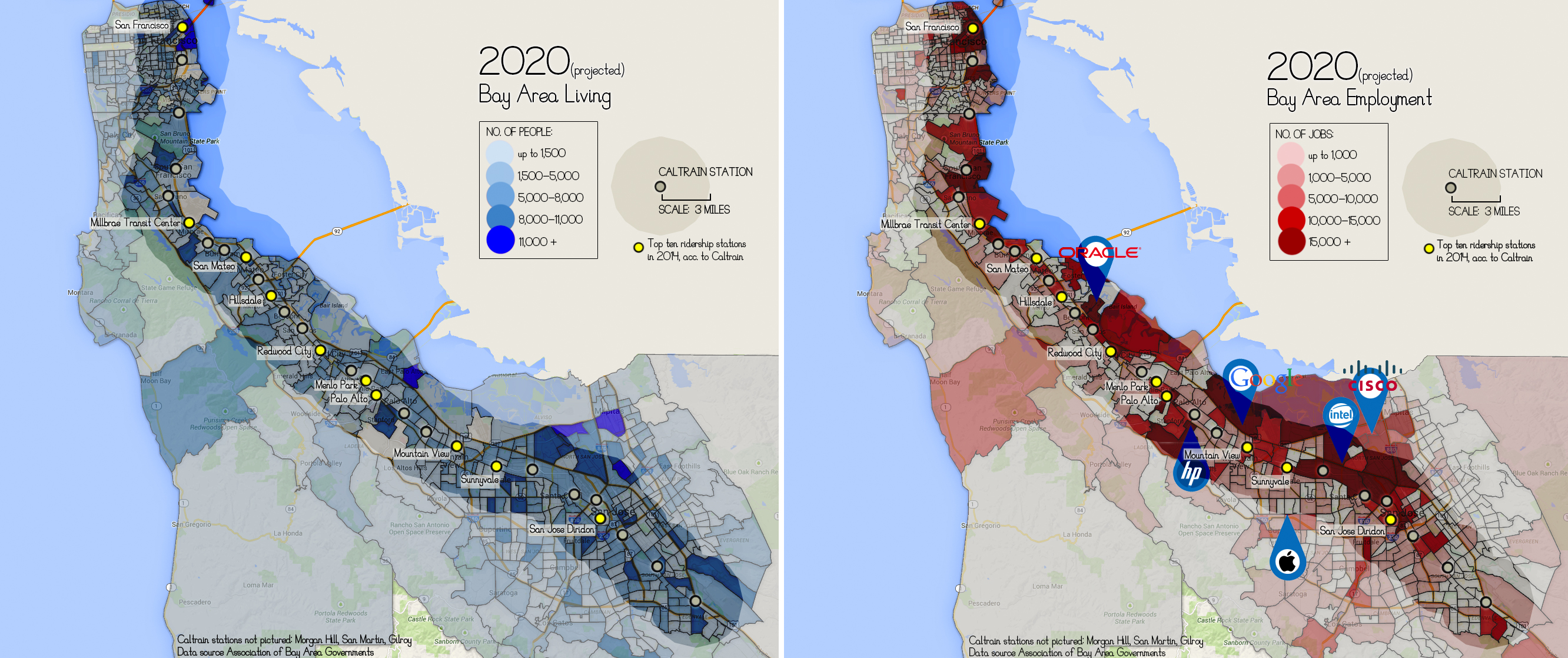 "This is not a hobby. I don't bring a bike on the train because I like my bike, or because it's my favorite toy," Levin said. "This is how I get to the place I'm going to after getting off the train, which is further than walking distance. This is necessary."
Caltrain collected data regarding commuter employment as part of a recent online survey regarding electrification — a project that will substitute diesel cars for electric cars by 2021. The survey asked commuters for input regarding interior design options and commuter travel routines, to and from stations.
"For electrification, we need to plan for even more," Johnson said. "Bike ridership just keeps increasing and Caltrain needs to plan for that."
In this video, we follow train commuter Janet Lafleur on her typical biking journey from home to work: