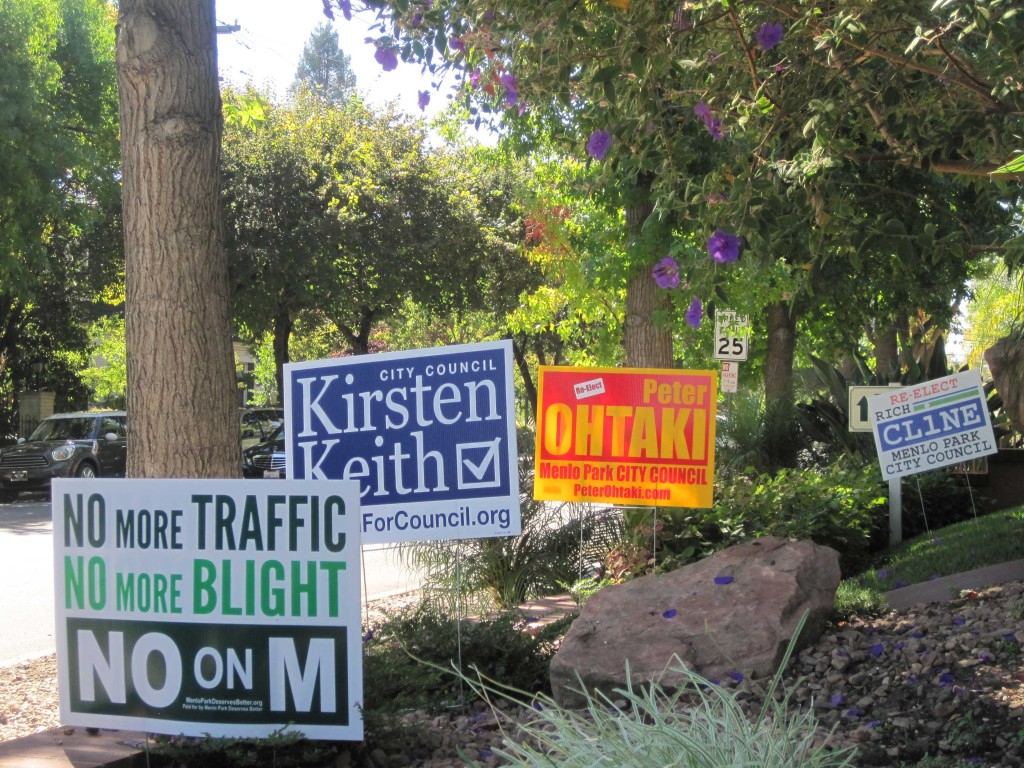 Voters in Menlo Park decidedly rejected a controversial initiative that would have cut in half the amount of future office space allowed in the city's downtown and El Camino Real areas. Sixty-two per cent of voters decided to keep current land use guidelines, and to continue the city council's negotiations with two developers proposing to build hundreds of apartments and up to 409,500 square feet of offices.
Kirsten Keith, a city council member who won re-election yesterday to a second four-year term, opposed Measure M along with Mayor Ray Mueller and the rest of the council.
"What we can learn from the vote yesterday is that people want to move forward with making Menlo Park a better place to be, and Measure M is not the answer to that," said Keith, as she took her two dogs for a walk this morning.
Last month, the city council asked Stanford University to modify its development project after an analysis showed it would significantly increase traffic congestion. (Peninsula Press is a project of the Stanford Journalism Program at Stanford University.) Keith said the council is waiting to see an environmental impact report of Greenheart Land Company, the other main developer.
"We have already been negotiating public benefits with the developers," said Keith, a former Menlo Park mayor. "We still have a long process to go."
Greenheart donated $200,000 to a Committee for a Vibrant Downtown to fight Measure M with mailers, ads and phone banking. Also against the initiative was Menlo Park Deserves Better, a citizen group not affiliated with Greenheart that received over $17,000 in small campaign contributions.
Pushing for Measure M was Save Menlo, supported by more than $75,000 in campaign donations. Patti Fry, who has lived in Menlo Park for 23 years, said the group was disappointed by the initiative's defeat.
"From the beginning we knew it was a long shot," said Fry, a former planning commissioner. "But it was the only way to put the community and council focused on issues that really matter: traffic and the character of our town, foremost. I think that's happened."
Fry said before Save Menlo qualified Measure M to the citywide ballot, most residents knew nothing about the two development projects by Greenheart Land Co. and Stanford.
Save Menlo and other Measure M proponents argue that building large office complexes downtown would increase peak-hour traffic, which is already a nuisance for many residents.
"Traffic was the number one issue, clearly they want the city council to deal with that. And there are a lot new activists who really care about the quality of life here and will hold the council accountable," Fry said. "They view this as the beginning, not the end."
Farida joins Stanford after a career as a news producer and reporter at Radio Bilingüe, the national Latino public radio network. In that capacity, she traveled across California's Central Valley, Salinas Valley and the Bay area covering a wide range of topics including education, farmworker health and traditional art. Her stories have appeared on NPR, Reportingonhealth.org and El Mensajero, a San Francisco weekly. She has a bachelor's degree in Biology from Reed College in Portland, Oregon. Farida has worked as a communications professional in India, Mexico and the U.S.